My Communication internship experience with RSIF
---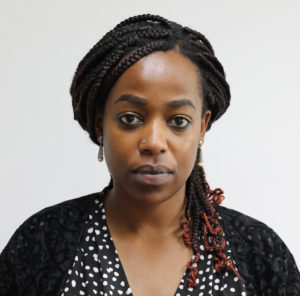 By Yvonne Ndegwa, Former communications research intern  February-April 2021) at RSIF

"…. This is the defining global health crisis of our time…" Words uttered by WHO Director-General Dr Tedros more than a year ago, but which still ring true today. The pandemic has been a defining moment in the human experience and has drastically changed how we do things. Its fatal effects have been felt the world over and will surely live an indelible mark on our history books. The pandemic also left so many people jobless with the far-reaching economic strain of the pandemic felt by organizations, with their workforce bearing the brunt of it all through job cuts, unpaid leave, and uncertainties of whether the status quo will ever be restored. It also meant that job seekers like me would have to work even harder to secure employment, if any. It was therefore very humbling and almost felt undeserving that in such times, I got to work with the Regional Scholarship and Innovation Fund (RSIF) as a Communications Research intern for a period of three months. Truly, this is an opportunity that I do not take for granted given the prevailing situation.
My internship has been the most fulfilling and motivational experience because I got to do what I love and offer myself to a project that makes Africa and the African people better-something that is close to my heart. Through the scholarships offered under the fund, researchers can advance their research and solve some of the problems that plague Africa. The fund also enables links with industry leaders and partners who are able to work with African universities that host RSIF students to transform what would have otherwise just been ideas, into innovative projects that offer solutions and opportunities for growth and development of the continent. I am very proud to have been engaged with a project whose heart and soul beats for the African people.
With such empathetic, compassionate, and supportive colleagues, this communication internship has helped me achieve my goal of gaining a world of exposure and experience in how communication can be tailored to drive change. Part of my role as a Communications Research intern was to support in social media engagement between RSIF and its audience- a responsibility that I performed diligently, and which drove our social media platforms spiralling towards the right direction. On Twitter for example, our engagement grew remarkably by almost 30% within 3 months and this is important because in the global village we live in now, almost all your audiences are online and traditional platforms of engagement are not as effective as they used to be. Because of the lessons I learned from the cooperation of my colleagues, I am confident that I will continue to grow and develop professionally and in my personal endeavours.
Within my internship, there were two distinct learning experiences that stand out to me as the most influential aspects of my development: social media is a tool for change and teamwork makes the dream work.
Throughout my internship experience, I was able to develop and foster a truly positive working environment, all through the support, cooperation, and guidance of my colleagues. Through the application of time management, organization, discipline and consistent practice, my presentation skills as well as my interpersonal skills improved remarkably. Additionally, my development both with managing the daily processes within the office and planning and delivering effective content on our social media platforms directly impacted the publicity gains of RSIF.
As I say goodbye, I am pleased by the gains we have made so far and extremely proud of the growth we continue to experience. I am encouraged by the overarching purpose of RSIF for Africa and I believe that through the fund, quality research will translate into transformational change which will tap into the potential of Africa and its people. I have grown remarkably as an individual and as a professional and will use all that I have learnt during my internship to advance and elevate my abilities.
Many thanks to the RSIF team for making my stay a smooth one filled with learning opportunities. To my supervisor, Dr. Moses Osiru, thank you for giving me the freedom to explore my creativity and inspiring growth through your strong leadership abilities. RSIF is indeed headed in the right direction under your leadership. I also wish to thank Kristin Seljeflot, whose dedication and commitment to her work was a great source of inspiration and for offering her guidance and support to ensure I made the absolute best of my time at RSIF. To the rest of the team, I am greatly indebted to the support and cooperation you have accorded me- I wish you all the best as you continue to discharge your duties. RSIF is a fund whose impact will be felt for generations to come and I am happy to have been part of such a programme. I look forward to reading about RSIF in the various news outlets and social media platforms.
I am confident in my own growth and development. I would not have the knowledge or skills I have today if it were not for my internship experience with RSIF, and I look forward to where my career in communication takes me in the future.
This perspective has been shared by Yvonne Ndegwa who was a communications research intern for three months (February-April 2021) with the Regional Coordination Unit of the Regional Scholarship Innovation Fund of PASET at icipe. She is a graduate of the Jomo Kenyatta University of Agriculture and Technology (JKUAT) in Kenya and holds a Bachelor's degree in Corporate Communication, Media Studies and Management. Before joining icipe, she worked at the Central Bank of Kenya as a Communications Assistant. She also has experience working as a Personal Assistant to the Director in IONEC East Africa and a Corporate Communications Intern at Kenya Pipeline Company Limited.