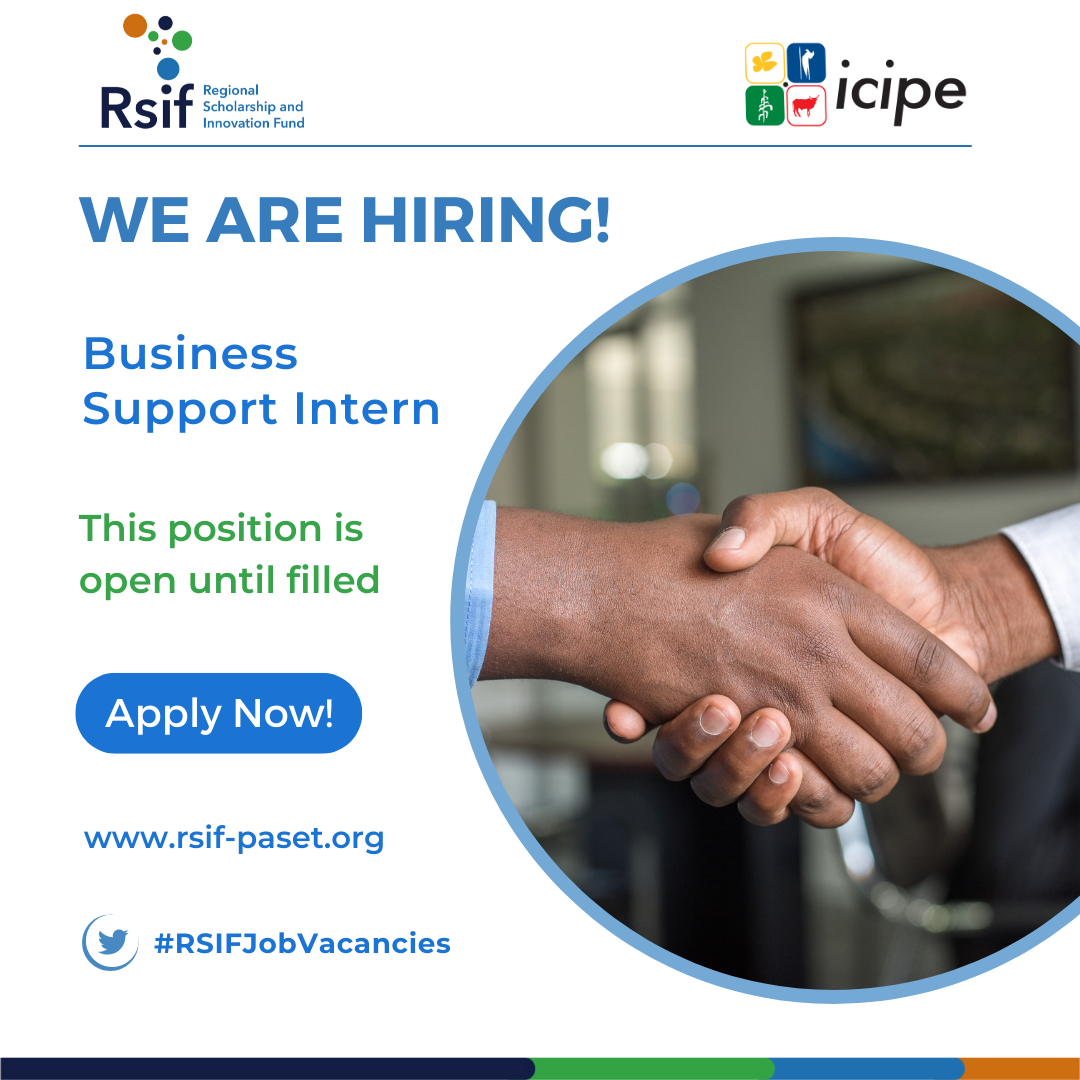 Type: Other
Location: Nairobi
Deadline Date: October 30th, 2022
Description
THE PASET AFRICA REGIONAL SCHOLARSHIP AND INNOVATION FUND
Terms of Reference, Business Support Intern
Project Name: The Regional Scholarship and Innovation Fund for Applied Sciences, Engineering and Technology (PASET RSIF)
Expected duration: 3 months
Expected start date: October 1, 2022
Supervisor: RSIF Regional Coordination unit Manager
RSIF is the flagship program of the African Government led Partnership for Skills in Applied Sciences, Engineering and Technology (PASET). It aims to address the human resource gap in the fields of applied sciences, engineering, and technology (ASET) by training high quality PhD and post-doctoral scholars and building research and innovation capacities in those fields in Sub-Saharan Africa (SSA). The program is designed in three complimentary windows which provide scholarships for PhD training with parallel support to African Host Universities to enable them deliver high quality PhD graduates (Window1) and competitive grants for research (Window 2) and innovation (Window 3). In 2018, icipe was selected by the PASET Governing Council to manage the RSIF Program, including its three windows. icipe has made significant progress in the implementation of the RSIF Program including the award of 291 PhD scholarships and 37 research and innovation grants; identification and competitive selection of fifteen (15) PhD programs within African Host Universities which are located across sub-Saharan Africa (SSA) spanning West Africa, Central and Eastern Africa; graduation of the first five RSIF students; and creation of the RSIF alumni network, among others.
As part of its operations, the RSIF RCU maintains a Secretariat at icipe that is responsible for program implementation including monitoring evaluation and learning. As part of this function, RSIF ensures that best practices are used for administrative management of the program and as such, continually seeks to update its practices at all levels.
icipe, the Regional Coordination Unit of the Regional Scholarship and Innovation Fund (RSIF), is seeking to recruit an intern to support upgrading of its information resource management of both outputs and programmatic documentation. The intern will provide critical support to all stages of implementation of information management activities under the overall supervision of the RCU Manager, and working closely with the RSIF Project Support Officer, and in liaison with other RSIF team members.
Specifically, the intern will:
 Assist in the encoding of Project documents and reports (including key presentations) and improve filing (hard copy & electronic): Scholarship/grants and related documents, RSIF Project Agreements (AHUs, IPIs & Tripartite agreements); General project documentation.
Review existing databases (online and offline) and work with relevant staff to update them.
Upload all key RSIF reports to the RSIF website.
Ensure use of best practice in record-keeping management.
Review the management of contact management and make recommendations for improvement
Participate in relevant meetings with RSIF project teams and from time-to-time support minute taking.
Provide report (s) on key activities undertaken and recommendations for the future.
Provide administrative support and perform other tasks that may be assigned, as necessary.
Qualifications
A relevant bachelor's degree in business administration, management, information and communication technology, Library and Information Science or related field.
A Master's degree will be an added advantage
Experience with working with digital libraries and related technologies will be added advantage.
Core competencies
Highly organized, with ability to prioritize with level of importance.
Strong writing and communication skills.
A self- starter with excellent attention to detail.
Ability to handle multiple tasks and tight deadlines.
Learning Objectives
The intern will enhance the following skills:
(i) Project filing, documentation, and archiving.
(ii) Information management and cloud filing.
(iii) participating and supporting online team meetings.
(iv) project implementation exposure.
Terms:
Terms for the intern will be according to icipe's policies for internships.
How to apply
Access the online application through this link
This position will remain open until filled.