My knowledge and dreams are transformed into meaningful skills because of RSIF
---
What it meant to get scholarship for this PhD?
Jeanne Pauline Munganyinka is a PASET/RSIF Scholar studying for a Ph.D at the African University of Science and Technology in Abuja (AUST) and currently on a sandwich programme at Worcester Polytechnic Institute (WPI)Worcester in Massachusetts, United States of America.  Having been among the RSIF first cohort in 2018, Jeanne Pauline admits that the scholarship has helped her transform her knowledge and dreams into meaningful skills in her field.
As a young girl, her desire was to attain a PhD. But she never thought that she would have enough money to afford one. Getting the RSIF scholarship was a dream come true because it gave her the opportunity and means to achieve her childhood dream. Traveling to the United states for her Sandwich programme was the biggest hightlight, because she says, it was an opportunity to unlearn so many things and appreciate the differences in education from her own home country Rwanda and the country of her host University Nigeria.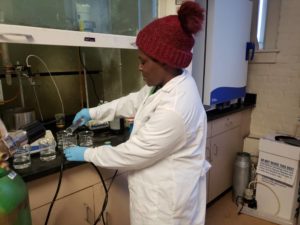 The progress
Supervised by Prof. Grace Ofori-Sarpong (AUST) and Prof. Brajendra Mishra (WPI), Jeanne completed all coursework required by the African University of Science and Technology in Abuja (AUST) her African host University during her first year. She has also successfully defended her research proposal. Her research will provide a green viable method for gold recovery to help countries reduce pollution and wastage during processing of Gold and thus reap greater benefits from this valuable resource, while sustaining the environment.
Jeanne believes that her 'technology' will contribute to modernizing the Gold industry in Africa, leading to improvements in the livelihoods of miners, their families, and affected communities and support sustainable development in sub-Saharan Africa. Her dream is to have an Africa that uses advanced technology, where Africans make smart use of their natural resources and transform the lives of people on the continent. This, she hoped  will answer her daily question "Why Africa has such a large source of raw materials and yet continues to import finished products at  very high costs".
In addition to attending different conferences and trainings. She has submitted one paper that has been accepted. Her second manuscript is under review, while a third is under preparation. She continues to develop her PhD thesis.
How COVID affected Pauline
Jeanne's research works are laboratory-based. The closing of laboratories, libraries, and offices as a result of Covid-19 interrupted her research work and slowed down the writing of academic papers due to the lack of data. Additionally, she had challenges with the movement of her samples including losing one batch of samples in transit.
WPI partially re-opened after six months, with changed laboratory working hours and arrangement to work in shifts, weekly testing for COVID, limited face-to-face the lab that affected the speed of experiments.  As a student and mother, mixing school with family responsibilities was not easy. Juggling the her family and research responsibilities has been a challenge.
She requests that for future scholars, the programme should provide students with advanced learning devices for easy access to software while analyzing data remotely. Also to mobilize funds to support Ph.D. students whose studies have been affected by COVID-19 and most important, to provide support for an immediate family member for RSIF scholars, to enable mental stability while away and focus on studies without worrying about Family.
Contact Jeanne Pauline Munganyinka via jmunganyinka@wpi.edu