Two Rsif scholars at Kenyatta University share their Rsif PhD experience.
---
Afia Owusuah Akyaw (Ghanaian) and Agoundedemba Maklewa (Togolese) are Rsif Scholarship recipients in the third Cohort pursing a PhD in Minerals, mining and materials engineering at Kenyatta University (KU), Nairobi, Kenya. Afia's PhD Research focuses on the study of thermal and chemical stability of Perovskite Tandem Solar Cells in various environmental conditions while Maklewa's PhD Research focuses on improving the performance of solar cells. In the interview below, Afiah (A) and Maklewa (M) share their PhD journey.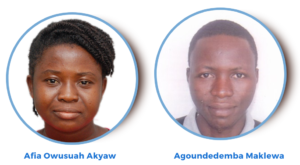 Q. When did you join the Regional Scholarship and Innovation Fund (Rsif) program?
A: I reported on 4th October 2021
M: I joined on 19th October 2021
Q. What does acquiring this PhD mean for you and your country?
A: I was driven to study energy and renewable research because of frequent power outages in my country, Ghana. My main aim is to acquire the skill that will enable me to solve that problem by collaborating with other researchers to find a solution.
M: The day I received this PhD scholarship was one of the happiest days of my life because it had always been my dream to acquire a PhD in Physics, which provides an opportunity that will open doors for me in the future.
Q. How does it feel to study away from your home country?
A: I am used to it since I studied in Switzerland and did my masters in Spain. I deliberately chose to apply for the PASET-Rsif program because I was bored of studying in Europe, and was excited to study in Africa, especially in Kenya because I was intrigued by Kenyans and their behaviour.
M: It is my first time to travel and study in another country, and my first time being an English-speaking country. It has been my aim to study in an Anglophone country because most Science is taught in English. I chose to study in Kenyatta University because they offer research on energy, which is what I was interested in, and wanted to try studying in a different environment from West Africa.
Q. What challenges have you been facing as a PhD scholar?
A: My biggest challenge to find a suitable and conducive environment to stay near the university, as the accommodation places available near the university are noisy.
The other challenge is that most African universities do not have sufficient facilities for the Material Science field. It is actually my dream to establish at least one good facility in Africa where students from all over Africa can access and use.
M: My biggest challenge is the language barrier, but I am learning English so that I can have an easier time going by and even attending Conferences and meetings.
The second challenge I faced is looking for accommodation, which can be challenging for a foreign student.
Q. What is your experience as a PhD scholar under the Rsif program?
A: It is a blessing for me. I have been studying through scholarships for most of my life, and the difference with Rsif is that Rsif is concerned with the scholars', and not just the academic part. For example, through the different capacity building programmes like webinars, seminars, which are areas the university is not able to focus on. In fact, I invite my friends to join some of these programmes so that they can benefit too.
M: It is an honour for me to be under the PASET-Rsif Scholarship, because through these capacity building programmes, I have learnt that it is not only about receiving a degree, but also developing the skills. This scholarship has been a steppingstone to help achieve my dream, because in my country there are no equipment to study material science, but through the PASET-Rsif scholarship, I have been able to do so.
Q. What problem is your study solving in your country?
M: My study is in solar cell energy because of frequent power outages in my country. We also import most of our power from Nigeria and Ghana, therefore I seek to find a solution, and ensure Togo can independently supply its power through solar energy.
A: Silicone solar panels are expensive, so I am working on a material which if stabilized by 2030, every home should be able to afford a solar panel. The challenge is that the material is not stable yet, which is why I am studying it.
Q. What are your expected outcomes of your research by the end of your study?
A: I want to be a researcher and combine it with lecturing. I hope that after this training I will be equipped to collaborate with scientist all over the world to further my knowledge and continue working on energy materials.
M: I did my Maters in renewable energy but realized that I do not have the practical knowledge to put my study in action. I therefore hope to be a lecturer or adviser for the solar module industry after I finish my PhD, and to set up my own industry.
Q. What message do you have for Rsif?
A: First I would like to thank the African governments and partners for making the Rsif scholarship possible, and the Rsif capacity building team.
I would also like to urge PhD students to make use of their degrees, and not just shelf them once they are done. If universities can collaborate with the industries, like in advanced countries, such that the PhD topics are provided according to industry needs, then students can be guaranteed of utilizing the skills they developed during their study, to impact on their countries and African as a whole.
M: I would like to thank Rsif, and all its sponsors and partners, for this scholarship and to urge Rsif to keep the initiative going and keep supporting young Africans to pursue their PhDs, especially because it is not easy to receive support.
Additionally, I would like to ask Rsif to seek partnerships with some industries within Africa so that the research work that we do can be used in the industry once we finish studying, which can build the capacity of Africa.
What message do you have for Rsif scholars beginning their PhD journey?
M: I would like to encourage you, that studying your PhD is achievable, as long as you stay focused on your aims and work hard.