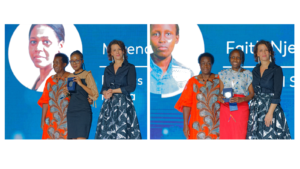 Each year, the L'Oréal UNESCO For Women in Science Young Talents Sub Saharan Africa Awards recognize and support African women scientists for the excellence of their scientific research. Two Rsif cohort 2 students, Faith Njeru and Mwende Mbilo, who are both Kenyan citizens, were honored at the 14th award ceremony in Kasene, Botswana in the presence of His Excellency Mr Mokgweetsi Masisi, President of Botswana, and aired on CNBC Africa on 9 November 2023.  Their remarkable accomplishment sets them apart from a formidable pool of 632 applicants, making them beacons of inspiration and achievement in the field of science.
Faith Njeru (33) is an Rsif PhD student in the food security and agribusiness thematic area at the Sokoine University of Agriculture in Morogoro, Tanzania, one of Rsif's African Host Universities (AHUs). Her international research placement is at Ghent University in Belgium. She was rewarded for her work on developing novel diagnostics to conserve Kenya's maize crops.
"Early detection leads to less food loss, leading to food security and increased earnings for the farmers and the seed companies," Faith told University World News. She explained that her research is aimed at developing a cheap, effective, easy-to-use paper strip test for plant disease detection based on novel molecules obtained from the serum of camels. The test will be used by farmers, seed companies and plant protection agencies to detect diseases early and initiate early-warning campaigns to help reduce crop loss. Her published scientific works are available through the Rsif digital repository.
Mwende Mbilo (30) is an Rsif PhD student in the energy including renewables thematic area at University of Nairobi with research placement to the Korea Research Institute of Chemical Technology (KRICT). She was rewarded for Iinnovating science to improve solar energy solutions in Kenya.
Her PhD research is on the Design of efficient and stable non-fullerene acceptor-based organic solar cells by buffer layer modification. Under the guidance of Prof. Robinson J. Musembi, she is a member of the research team implementing an Rsif funded research project on a Self-cleaning solar module for enhanced output and she also contributed to the UoN Department of Physics' Research and development of photovoltaics based on lead-free perovskite solar cell technology. She has published 7 articles in peer-reviewed scientific journals.
Rsif is a flagship initiative of the African government-led Partnership for Skills in Applied Sciences, Engineering and Technology (PASET) that bridges the skills gap needed for a science, technology and innovation-led growth and sustainable development in Sub-Saharan Africa.  An integrated objective is addressing imbalances in the number of women and nurturing Africa's next generation of female scientists. Icipe, the Rsif Regional Coordination Unit, emphasize high quality science.
The L'Oréal-UNESCO For Women in Science Young Talents programs aim to empower women scientists to pursue their career, and more broadly to promote and highlight the crucial importance of women in science. Along with the other winners, Faith Njeru and Mwende Mbilo had a chance to engage with the First Lady of Botswana, H.E. Mrs Neo Jane Masisi, and more than 150 school students in an intergenerational conversation and knowledge exchange. Women role models are important to inspire the younger generation.
The PhD candidate winners will receive a grant of Euro 10,000 to conduct their research projects and also benefit from leadership training by Fondation L'Oréal.
Read more in the Press Release on the event by L'Oréal Foundation.